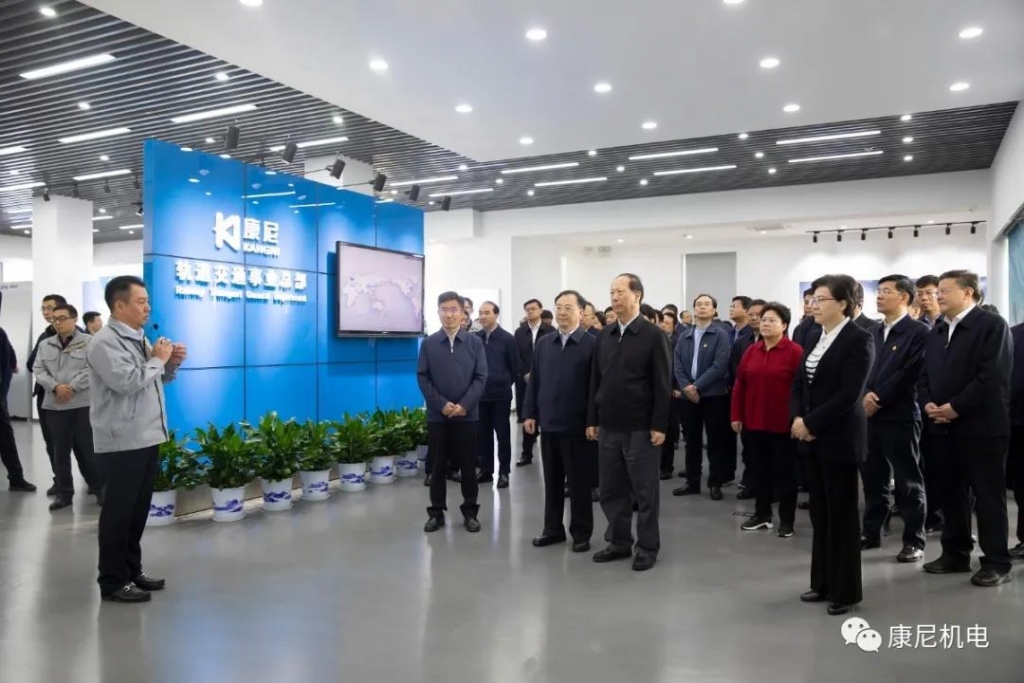 Date: April 22
On the morning of April 21st, accompanied by Wu Zhenglong, Deputy Secretary of Jiangsu Provincial Party Committee and Governor of Jiangsu Province, and Han Liming, Secretary of Nanjing Municipal Party Committee, Shi Taifeng, Secretary of the Party Committee of Inner Mongolia Autonomous Region and Director of the Standing Committee of Inner Mongolia Autonomous Region People's Congress, led the Inner Mongolia Party and Government delegation to visit Nanjing Kangni Mechanical & Electrical Co., Ltd. During inspections and exchanges on manufacturing, transformation and upgrading, Kangni has a large number of independent intellectual property rights and has established an internationally advanced R&D platform, which left a deep impression on Secretary Shi.
In the exhibition hall of Kangni's Railway Transport General Dept., president Gao Wenming reported to leaders on business condition of Kangni, focusing on Kangni's achievements in transformation and development, technological innovation, and intelligent manufacturing. Subsequently, the delegation went to Kangni's intelligent manufacturing center and inspected several robot work stations such as welding, assembly, and edging-folding.
When introducing the construction of intelligent manufacturing, Governor Wu was very concerned about the efficiency and benefits achieved by Kangni's intelligent manufacturing construction and improvement in product quality brought about by it. Mr. Gao said that the production efficiency of main door products of railway transport has been increased by 41%, operating cost has been reduced by 23%, product development cycle has been shortened by 31%, and energy utilization rate has increased by 32%. Kangni has comprehensively improved its R&D, manufacturing, and service capabilities, and enhanced its core competitiveness and sustainable development capabilities.
At the end of inspection, Governor Wu Zhenglong expressed his strong support for the development of advanced manufacturing industries like Kangni, which is a further encouragement for Kangni's future development. KN will live up to its trust, forge ahead, continue to achieve transformation, upgrading and sustainable development through technological innovation and advanced manufacturing, and strive to build a better innovative private high-tech enterprise!